Welcome to the website of A14 Mobility Stairclimbers. We provide powered stairclimbers that make it easier to carry people up and down stairs.

Some of our models include an integrated seat while others allow the attaching of a wheelchair to offer you the freedom of going up and down stairs and steps, whether inside or outside a reality.

We also provide NVQ and Apprentiship programs funded by the government to establishments
What can a stairclimber
do for you?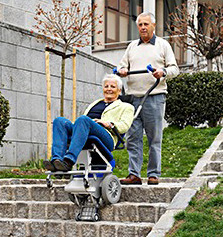 A mobility stairlcimber can provide freedom from your house. It is likened to having a mobile stair lift.

Read More

Our Stairclimbers
(*depends on model)
Runs on own battery
Comes with own seat*
Carry existing wheelchair*
Large outdoor wheels*
Folding seat option*
Track based climber*
Seat belt option
Headrest option
Up to 160 Kg (25 Stone)*
Easy storage

Braking system included*
Folding foot rest*
Summary of our
stairclimber model types
PT UNI
Roll on existing wheelchair and climb to the stairs Read more
PT S / Outdoor
Stairclimber with own integrated seat option. Read more
PTR
Track based stairclimber for wheelchairs. Read more
PT Plus
Stairclimber and Wheelchair included option Read more
PT Fold
Stairclimber with integrated folding seat option Read more